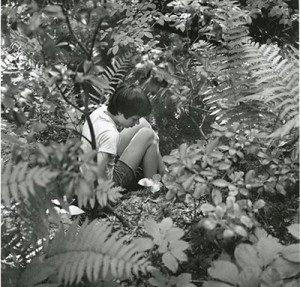 "Childhood is a place as well as a time." Those words of May Sarton open Part I of her novel, The Magnificent Spinster, and the chapter "Time" in From May Sarton's Well. In other passages in this chapter she talks about some of the pressures most of us have–too much to do, too much pressure, no "time to think…to be."
Sometimes I worry especially about the time pressures on children. There are so many things that keep them busy, sports, homework, social networking, electronic games. I wonder if many children today are allowed a place—especially an outdoor place—where they can be children. Too many parents are afraid (often unnecessarily) to let their children wander on their own outdoors and find a place that they can be alone with their thoughts.
This is my oldest son, many years ago in the woods near our house. I think the value of the place and the time he had to be a child now shows that he valued it. He has helped make it possible for his own sons to have a place and a time to be boys. I am glad I had this photograph (one of the oldest ones in the book) to use to accompany this important quote of Sarton's. The photograph appears on page 106.