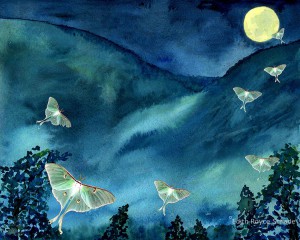 You may wonder why this image is showing up in my blog. What does it have to do with May Sarton? What does it have to do with my photographs?
May wrote a lot about the muse, about who and what inspired her to write, particularly poetry. May Sarton, the person and the writer was certainly a muse for me in my photography and while I was creating From May Sarton's Well. During that process her influence was direct. Now her influence is subtle, and has become part of me. Her's is among many influences that have become part of me.
She is among many creative people who have lead me to try a new medium—painting, and then to combine that with my photography. New digital technology has made this possible. "Luna Moth" started with my photograph of one of those ethereal insects that was clinging to a pasture gate. I decided I wanted a more poetic background for it. So I painted this moonlit scene and scanned it. I extracted the moth from my original photograph and–in different sizes and positions—digitally combined the moth imagesand my painting into this piece. I know that May's spirit, as a muse, helped lead me to create "Luna Moth".