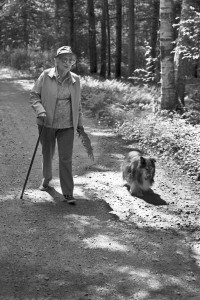 If she had lived this long, May Sarton would be 100 years old this May 3rd. She died in York, Maine, July 16 1995. That beautiful seaside town will celebrate her legacy with their Sarton Centenial Celebration, May 3 – May 6, 2012.
I am excited that I'll be part of the symposium. Not only will I have the opportunity to meet again with a few of the close friends of May's that I met at the celebration of her 80th birthday in Westbrook, Maine twenty years ago, there will be interesting and fun events to attend. As a participant. I will give a multi-media talk about May Sarton and the creation of our book, From May Sarton's Well, with slides from two of my visits to her home, Wild Knoll in York, at 12:30 on Friday, May 4th and repeat it on Saturday, May 5 at 8:45. Also on Friday, at 3:00, I will be a member of the panel for "Conversation with Writers and Friends".
This photograph is one that I made during my visit with May in 1983. My friend, Anne Alvord, my camera and I accompanied May and her lovely Sheltie, Tamas, on May's morning walk a loop around Wild Knoll.
It would be fun to have an opportunity to meet some of you who have read this or other of my blogs. Here is a link to the Sarton Centennial Celebration:
http://www.maysarton100.org/2.html