On the day May Sarton died, one more dong rang in death knell for the art of letter writing. May was among the greats in a dying breed of extraordinary letter-writers. Her love of writing and her broad spectrum of interests flowed into epistles she wrote to friends, fans, and colleges. We have Susan Sherman to thank for editing and publishing the following four volumes of May's letters. All of these are available through Amazon.com.
May Sarton: Selected Letters 1916-1954, Edited and Introduced by Susan Sherman, W.W.Norton, ©1997.
 Dear Juliette: Letters of  May Sarton to Juliette Huxley, Selected, Edited, and Introduced by Susan  , W.W. Norton, ©1999.
 May Sarton, Selected Letters 1955-1995, Edited by Susan Sherman, W.W.Norton, ©2002
In addition, May Sarton: Among the Usual Days: A Portrait, Edited by Susan Sherman, ©1993 contains excerpts from many of May's letters.
I was very fortunate to be one who received mail from May. I wrote Ms. Sarton a fan letter after reading Plant Dreaming Deep in l971. She replied by postcard. That postcard and that book started me on a marvelous journey as a photographer and as a person. I will always treasure all the letters and postcards she wrote to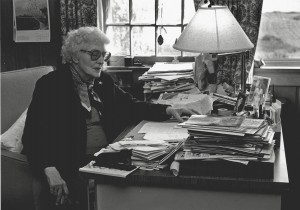 me over 25 or so years.
May responded to every letter she received from anybody until eventually the shear quantity on the mail became overwhelming. This photograph is evidence (It appears on page 146 of From May Sarton's Well) . I made it during my second visit to Wild Knoll with my friend, Anne Alvord, in 1983. We asked May if we could see her writing room there, and if I could make a photograph of her at her desk. Behind her piled-high desk was at least one large box of unanswered letters.