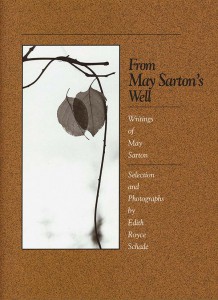 1994 saw the birth of From May Sarton's Well:Writings of May Sarton, Selections by Edith Royce Schade. The book was published by Papier-Mache Press in September of that year,  with a copper colored cover. This second decade since its publication has sent me to musing about what happened during that year and what I thought about it all.
What an  exciting time it was for me. It followed a long gestation period that began with my reading of May's Plant Dreaming Deep in 1971.
On February 3, 1994 I wrote the following in my journal:
"I sent "the book" to Papier-Mache today!
"I feel as if I am sending a child off to college in some ways. She is likely to change a lot. She is in other hands. How will she be seen by other people? Will she speak to them? Will they understand her? I have very little influence on her now. But I care a lot. Like a child, she is more than me. I gave her birth, and tried to nourish her, but she took off and grew on her own. She is herself. I don't understand everything about her. Many will see her very differently than I. How fortunate I have been to nurture her. I am proud of her, but I cannot and must not take full credit for her. She is a gift."
I was thinking especially of the photographs I had made for the book. I didn't even mention the major role of May's writing in these thoughts I'd jotted down. But I realize now even more than I did then, that "she"–From May Sarton's Well–was a gift to me. I think it has been a gift to readers too, though, and hope that will continue as long as books are read.