May Sarton said " One thing is certain, and I have always known it–the joys of my life have nothing to do with age. They do not change."
How right she is. I made this photograph of a pair of Great Egrets on a cove of the Connecticut River,
probably at least thirty years ago. My husband and I were canoeing, I was in the bow, and signaled to him that I wanted to photograph these two graceful birds standing in the arrowhead, so we drifted silently toward them. In this, my third exposure, one took flight, then they were both gone, but the memory of the sight, and the gift they gave me with this photograph is one of joys of my life. Since I was a child I have taken joy from the beauty of the natural world.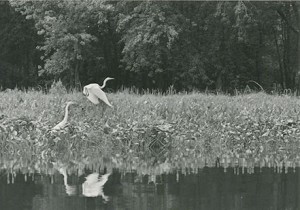 Sarton did not consider herself a "Nature Poet" but throughout all her books, whether poetry, novels, journals or memoirs her love for, and the joy she received from the natural world is a strong thread. That is a large part of what drew me to her writing when I read Plant Dreaming Deep in 1971. It is very apparent in her writing that the natural world is one of those joys in her life.
This photograph appears on page 47 of From May Sarton's Well.